JMA News
---
2018 New Year' Eve – Congratulations to Alyssa Michaels, the Winner of our 55" Big Screen TV raffle!
New Year's Eve was much warmer than last year, with a bit of rain, but we had a great party downtown on Main Street in Jasper. We had food vendors, a big screen tv giveaway, along with DJ Dano live on stage. Our ball was generously donated by Devereaux Design, and truck use donated by North Cherokee Electric.
---
2018 Night of Lights Christmas Parade
Video Thanks to KnowPickens.com
Congratulations to the following for the 12th Annual Night of Lights Parade
1st Place: Trinity Tabernacle
2nd Place: Angels on Horseback
3rd Place: Tie
Devil's Shadow Haunted Hayride
United Country – Talking Rock Realty
Best of Show: Pickens High School – all groups
Pride of Pickens Band, PHS Football Team, PHS Cheerleaders
---
Winners of the 2018 BOOWHO? Scarecrow Contest
Business Category
1st – Elite Jewelry
2nd – Mac Mechanical Services
3rd – Sharp Mountain Graphics
Churches/Groups/Large Organizations
1st – NorthStar Educational
2nd – First Baptist Church of Jasper Youth Group
3rd – Pickens County Tax Commisioner's Office
---
JMA Annual Easter Egg Hunt a Success!

Video Thanks to KnowPickens.com
---
New Year' Eve – Congratulations to Justin Ray, the Winner of our 55" Big Screen TV raffle!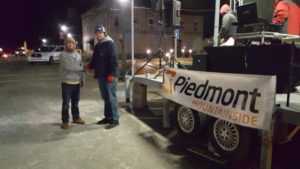 New Year's Eve was frigid, with temps into the teens, but we had a great party downtown on Main Street Jasper. There were food vendors, merchandise, a bounce house, a selfie booth, big screen tv giveaway, along with DJ Dano live on stage. We had a ball drop at midnight, provided by Devereaux Designs, as well as showing the live event from New York City on the big inflatable screen.
---
11th Annual Night of Lights – Parade of Lights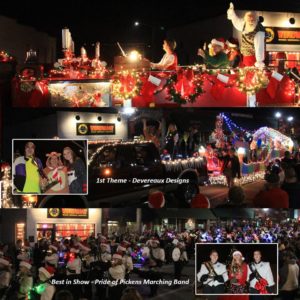 We had a great 11th Annual Night of Lights – Parade of Lights Christmas Event tonight. So many people need to be thanked for helping put this event on and making it come together and happen for all to have such a wonderful time, celebrating the Christmas spirit. The parade had some very wonderful and some truly exceptional entries in this year's "Candyland" themed event. Those that entered into the parade and went after the "Best in Theme" and the "Best in Show" were truly inspirational.
The WINNERS for BEST IN THEME are as follows:
1st Place — Devereux Designs
2nd Place — Community Christian Fellowship
3rd Place — Refuge Baptist Church
The WINNER for BEST IN SHOW which is based on your Crowd Engagement and Crowd Response to you along the parade route goes to:
PRIDE OF PICKENS HIGH SCHOOL MARCHING BAND
Thanks again to all of you that entered and was a part of this year's Parade of Lights. It was an awesome parade and everyone was great. The kids really enjoyed it.
Thanks to KnowPickens.com for the picture.
---
Back to School Supply Drive
UPDATE: We collected enough money, backpacks and supplies to get 41 backpacks and lots of supplies for the children of Pickens County! Thank you all for helping!!! We look forward to beating this number in 2018 so keep us in mind again next year.
---
2016 – 10th Anniversary for the Jasper Merchants Association Night of Lights – Parade of Lights Celebration in downtown Jasper, Georgia
Parade winners:
1st – First Baptist of Jasper Club 456
2nd – Devereaux Designs Inc
3rd – Keep Pickens Beautiful
Best in Show – Aces Youth Home

Twas the Night Before Christmas read by Lawton Baggs.
O Holy Night sung by Paige Fry Neill with Low Dough Show before the lighting of the Christmas tree by James Thomason and other Home Free cast. Co-Grand Marshal's Jackson Leake and Jess Sutton.
See the full parade video on our Video page
---
2016 – Trick or Treat on Main Street
View Photos Here on Facebook
2016 – The Zombie Walk Jasper Costume Contest
View the Winners on Facebook
---
5th Annual Boo-Who Scarecrow Contest, October 2016
Winning Scarecrows can be seen on Facebook
---
C. Shelley Repair has opened their new office at 38 Wall Street in downtown Jasper! Stop by to say hello to Chris and Krista and see how they can help you grow your business! Visit them online.
---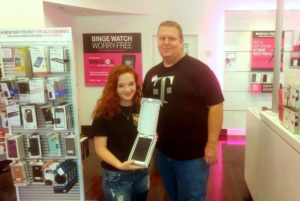 T-Mobile and the Jasper Merchants Association want to CONGRATULATE the WINNER of the "How I Would Change The World" Essay Contest = MADI PITTS
Jasper Middle School 8th Grader – Madi Pitts won the T-Mobile Alcatel ONETOUCH Pop 7 LTE that came with 200mb of data for life. Madi's winning essay was seen in the Pickens Progress and online on the JMA's Facebook pages in October.
View the essays here on Facebook.
---